Profile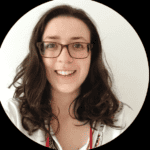 Anna Desmond
My CV
Education:

I went to Christ King Secondary school, studied nutrition and health science in Munster Technological University.

Qualifications:

I did my leaving cert, did an undergraduate degree and now I'm working on my PhD.

Work History:

I sometimes work in my dad's jeweller shop.

Current Job:

I'm a PhD student and lab demonstrator.

Employer

I work in the biological sciences department in Munster Technological University.
About Me

I am a PhD student in Cork and I love to bake and craft in my spare time.

Read more

I'm based in Cork and I'm currently in my third year of my PhD program. In the evenings, I like to cook or bake and at the weekend I like to go for walks on the beach or in the woods. I also like to do different crafts like sewing and needlework. I like to watch tv shows about animals. My favourite animal is a penguin.

My pronouns are

she/her

My Work

My project is about finding new natural medicines to treat infections in babies caused by bacteria.

Read more

My project is about finding new ways to treat infections in infants caused by bacteria. I try to find natural things that can be used as medicine called antibiotics. At the moment I'm studying proteins and sugars from milk and whether they can kill certain bacteria or not. I'm also studying if proteins produced from good and see if they can prevent bacterial infections or if they can kill the bad bacteria.

My attributes

My Typical Day

I wake up and have breakfast (Toast and orange juice). I get to work at 8:30am, where I do lots of experiments in the lab. Some days, I teach students on how to do experiments in the lab. Then I have lunch with my friends, and in the afternoon it's back to the lab to look at my results. I go home at 5pm.

What I'd do with the prize money

If I won the prize money, I would use the money to set up a program where scientists do school visits and teach students about different areas of science and what it's like to be a scientist. I would also like for students to come visit us in the lab and do some experiments with us to see what it's like to work in a lab.

My Interview

How would you describe yourself in 3 words?

Crafting microbiologist

What or who inspired you to follow your career?

My mum and my biology teacher in secondary school.

What did you want to be after you left school?

I wanted to work in science.

Were you ever in trouble at school?

No

If you weren't doing this job, what would you choose instead?

I like animals so maybe work in a zoo.

What's your favourite food?

Nutella

Tell us a joke.

Why did the bacteria cross the microscope? To get to the other slide.
---
---
---