Profile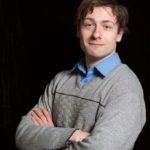 Boris Galkin
My CV
Education:

Confey College, Trinity College Dublin

Qualifications:

PhD in Electronic & Electrical Engineering
About Me

I am a postdoctoral researcher at the CONNECT telecommunications research centre in Trinity College Dublin. My research looks at connecting drones (or UAVs) into the mobile phone network, to allow drones to work better.

Read more

Originally from Russia, I am a graduate of Trinity College Dublin. Currently I am carrying out research in an Science Foundation Ireland research centre called CONNECT, which carries out research into mobile phone networks of the future, as well as other telecom technologies. I come from an aerospace family (grandfather was a pilot, mother was involved with the Soviet space program, that kind of thing) so I have always had an interest in aviation and flying machines. For this reason, when I got involved in research at CONNECT I took an interest in drone technology, and did research in that area for my PhD.

Outside of work I'm just generally a big nerd. I enjoy science fiction, historical novels, books on psychology, and outdoor photography. Trying to learn the piano a bit over the Covid lockdown, with mixed results.

Read more

As of 2020, Ireland has drone delivery services in parts of the country. You can order medicine or food online and it will be brought to you via drone. These drones are controlled via remote controllers, similar to how RC toys work. While this works, it limits how far you can fly a drone and creates other safety issues.

Our mobile phone networks allow us to connect our mobile phones to the internet and communicate with one another over long distances. If we can connect drones into the phone network we can control those drones across large distances.

The problem is that the mobile phone network is not designed to be used by drones. Mobile phones have existed for decades, yet its only in the last few years that scientists and the telecom industry have recognized that other types of devices (such as smart home appliances or drones) should also be able to use the mobile phone network. Due to the fact that they fly high in the air, drones have difficulty connecting to the mobile phone networks of today. The good news is that drones are very smart devices, and they can be made even smarter. I am researching ways to apply artificial intelligence (AI) to make drones smart enough to be able to connect to the phone network and get good data rates from it.

My Typical Day

A lot of my work involves coding on the computer, which I can do either at my office (before the lockdown at least) or at home. I also have meetings with my research partners, and write scientific papers about what I do, which I send to academic journals to be published.
---
---
---