Profile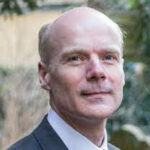 Robert Forster
About Me

I am the Professor of Physical Chemistry within the School of Chemical Sciences at Dublin City University

My pronouns are

He/his

My Work

My research team at DCU produce sensors based on nanobiomaterials that can measure the biomarkers in blood to predict and prevent disease- think of measuring a grain of salt in an Olympic sized swimming pool!

My Typical Day

Typically my day involves lectures, working with researchers in the team, writing applications for funding, working with colleagues to generate the next big idea!

My Interview

What or who inspired you to follow your career?

Carl Sagan (an astronomer- check out https://www.youtube.com/watch?v=GO5FwsblpT8&ab_channel=carlsagandotcom)

What did you want to be after you left school?

A vet

Were you ever in trouble at school?

Occasionally, mostly for exploring spaces I should not have been in!

If you weren't doing this job, what would you choose instead?

A mechanical engineer or a mechanic.

What's your favourite food?

Pizza... or chocolate cake...

What is the most fun thing you've done?

Ridden the rollercoaster Superman: Escape from Krypton 5 times in an hour

If you had 3 wishes for yourself what would they be? - be honest!

1. To live healthy for a thousand years. 2. To live long enough to msee first contact with intelligent life..... outside of earth! 3. To see science and society advance to the point where everyone has enough.

Tell us a joke.

This sentence contains exactly threee erors.
---
---
---