Profile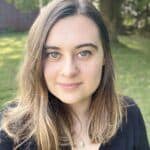 Sarah McPherson
My CV
Education:

F.E. Madill Secondary School (Wingham, ON, Canada), McMaster University (Hamilton, ON, Canada), McGill University (Montreal, QC, Canada)

Qualifications:

Ontario Secondary School Diploma, BSc in Integrated Science, MSc in Animal Science

Work History:

Working on my family's dairy farm, Program assistant, Research assistant

Current Job:

PhD Candidate
About Me

I'm a Canadian living in Ireland. I'm a PhD student studying animal science. I love cooking and baking bread!

My pronouns are

she/her

My Work

I'm a PhD student researching dairy cow and calf welfare.

My attributes

My Typical Day

On days when I'm in the office, I wake up around 7 am, go to work, and am there from 8:30 am to 5:30 pm. I spend all day working at my desk, on my computer, but I stop for morning tea and lunch to eat and talk with my friends. On days when I'm doing an experiment, I get up around 6 am. I'm at work before 7 am, and I immediately check on my calves. I spend the day working with them, taking measurements and making sure they are taken care of. I usually go home around 6 pm.

What I'd do with the prize money

I would give the money to VistaMilk (my researcher funder) to be spent on future student outreach events.

My Interview

How would you describe yourself in 3 words?

cow welfare enthusiast

What or who inspired you to follow your career?

I wouldn't stop asking questions as a kid, so I needed to go into a career that allowed me to continue asking questions on a daily basis

What did you want to be after you left school?

I wanted to be a veterinarian when I was a kid, but that was because it was the only career path I knew of that combined animals and science.

Were you ever in trouble at school?

Nope! I was (unfortunately) a well behaved kid.

If you weren't doing this job, what would you choose instead?

I have no idea! I almost went into the Earth Sciences when I was in first year university, so maybe something geology related?

What's your favourite food?

Christmas dinner (turkey, stuffing, gravy, cranberry sauce, pumpkin pie - all of it!). Probably because I only get it all once a year...

If you had 3 wishes for yourself what would they be? - be honest!

1. To be able to teleport anywhere around the world (Harry Potter style) to be able to go see my family whenever I wanted. Also to travel and see more of the world. 2. Cheap, clean renewable energy for the world. 3.

Tell us a joke.

Why do cows have hooves instead of feet? Because they lactose!
---
---
---