Profile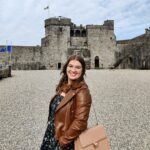 Lyndsey Moore
My CV
Education:

University of Tampa

Qualifications:

I have my BSc (Honours) in Biochemistry, 1:1

Work History:

I was a lifeguard for a year, and I worked as a resident assistant in a couple of my accommodations during university.

Current Job:

PhD candidate

Employer

I work in the School of Biochemistry and Cell Biology at University College Cork.
About Me

I live in Cork. I'm a PhD student at UCC and I study vaccines. I love Harry Potter, tea, and travelling!

Read more

I moved to Ireland from America in 2020, and I have been working on my PhD for 2 years. I went to university in Florida where I got my BSc in Biochemistry, which is the study of how the body works at the level of cells. At work, I am studying to turn vaccines into patches you can wear like a sticker. When not at work, I love to read, play video games, bake and play golf. My favourite animal is a manatee. I have one dog, a bulldog named Bailey, and I really want a cat!

My pronouns are

She/her

My Work

I am a PhD student at UCC, and I work with vaccines. Mostly, I am working to turn them into patches that don't hurt as badly as normal needles!

Read more

A lot of my research is looking at new vaccine formulations, which harden into teeny-tiny microneedles. A microneedle is a small needle, so small that you can't see it without a microscope! These are then put on the skin like a sticker with no pain. I also look at new ways to make the microneedles. This includes looking at ways to fill microneedle moulds and ways to harden the vaccine formulations. The moulds are used to make sure the microneedle has the correct shape and the correct volume.

My attributes

My Typical Day

I wake up and have breakfast, usually some tea and youghurt with granola and honey. I get to work around 9 AM, where I spend my morning experimenting in the lab. I eat my lunch in the cafeteria, then I sit at my desk to analyse my results. I go home around 6 PM.

Read more

My day can vary, depending on what I am doing. Sometimes, I spend my day researching. This includes reading lots of papers to form my hypothesis, or determining what the best experiment is to test my hypothesis. Hypothesis is a fancy term for a question, or more specifically, what I think the answer to my question will be. Once a week, I meet with my supervisors, who review my work from the week and help me stay on the correct track. Often, they provide additional insight and thought to my results. If I'm not researching, then I'm usually in the lab testing my hypothesis. I will do many experiments together, then analyse them to determine if my hypothesis was correct. After this is done, I write papers to tell the scientific community about my findings.

What I'd do with the prize money

I would use it to fund an outreach video demonstrating how vaccines work and why the are important. This video would be for students in primary school, but suitable for all ages.

My Interview

How would you describe yourself in 3 words?

tea-loving biochemist

What or who inspired you to follow your career?

Bindi Irwin!

What did you want to be after you left school?

A medical doctor or a researcher

Were you ever in trouble at school?

I used to get in trouble for reading books under my desk when I should have been paying attention to my maths!

If you weren't doing this job, what would you choose instead?

I would be a baker

Who is your favourite singer or band?

Florence + the Machine and Taylor Swift

What's your favourite food?

Anything with pasta or cheesy garlic bread!

What is the most fun thing you've done?

I went skiing for the first time in January 2020 -- it was exhilarating!

If you had 3 wishes for yourself what would they be? - be honest!

I would wish for the kitchen of my baking dreams with all the bells and whistles, a never ending travel fund, and for the ability to teleport myself.

Tell us a joke.

Why do we tell actors "break a leg"? Because every play has a cast!
---
---
---