Profile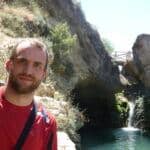 Vincent Monchal
My CV
Education:

I went at school in a small town in Brittany (West France) then I moved to Clermont Ferrand (Center of France) for my undergraduate and I return to Rennes (Brittany) to get my master. I finally end up in TCD Dublin for my PhD.

Qualifications:

I have currently a Level 9 in earth science

Work History:

Cashier, Data-manager for a journal, Postman, Project manager

Current Job:

PhD researcher and teacher in Geology

Employer

I'm employed by Science Foundation Ireland for my research and by Trinity College Dublin for my teaching activities.
About Me

I live with my partner in Dublin, I'm an earth science researcher and teacher, currently ending my PhD. I love cooking, hiking and crafting.

Read more

What I love about science is to share it, because the more brains there will be on a problem, the more we can have interesting ideas and solve it. There are no stupid questions, just things that are not clear enough yet. If you take the time to make some research, to be curious about a subject, you can become really good in that subject even if it seems really complicated at first sight. I would like to make science more accessible, so everyone can participate and make it progress.

My pronouns are

he/him

My Work

I'm a geologist, I study rocks, especially their chemical composition to give them an age and understand their stories.

Read more

I'm a detective of the planet Earth, I try to understand why rocks are the way they are in nature. It's important to know their story and their evolution to be able to predict what could happen elsewhere in the future.

I use the chemistry of rocks to understand where they are coming from, if the rock is made of one crystal or multiple generations of crystals. I also use the chemistry to give an age to rocks, I've already work on some rocks that were 3 billion years old!

My attributes

My Typical Day

I wake up around 7am and I have breakfast. I get my bus at 8am and arrive at work around 8:30. I look at my results or I go to my lab. I have lunch with my partner and in the afternoon, I finish my lab day, or I try to write a journal article about my results. I go home around 6 pm.

Read more

I don't really have a typical day; it will really depend on what way I can make my project go forward. I can spend the entire day doing some experiment at the lab, or I can look at the result from the last lab experiment and try to interpret them.

I also have some teaching activities that I really like to do. If I have enough good results, I can try to write an article for science journal about them and what I have discovered.

What I'd do with the prize money

This money will contribute to finance student's project or I could bring classes to do a little fieldtrip in Ireland, I could also use the money to provide the participating school some samples of rocks.

My Interview

How would you describe yourself in 3 words?

curious unifier researcher

What or who inspired you to follow your career?

I was always passionate about the world where we are living, I want to understand better how and why things occur in nature.

What did you want to be after you left school?

researcher with a teaching activity

Were you ever in trouble at school?

A bit but nothing too serious

If you weren't doing this job, what would you choose instead?

Green space protection or mountain guide

Who is your favourite singer or band?

Muse

What's your favourite food?

Cantonese duck

What is the most fun thing you've done?

Go to Disneyland with my partner

If you had 3 wishes for yourself what would they be? - be honest!

1-That nobody needs to worry about money anymore; 2- I get enough time to see a lot of natural wonder (northern light, volcanoes, wild animals or flowers); 3- that I can share that with my partner and our family

Tell us a joke.

Why can't you trust atoms? They are making up everything!

Work photos:
---
---
---